Wednesday Musette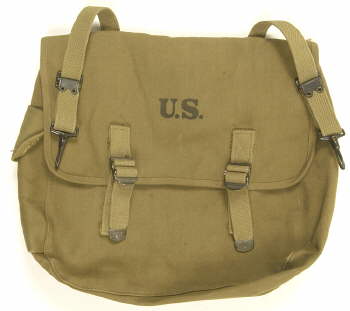 (Image of WW2 military musette bag from
Wing.Chez-Alice
. Website is in French.)
18JUN2008
Iowa
The Iowa State Association of Counties has placed a proposed ordinance before the Dallas County (Iowa) Board of Supervisors that would require any organized bicycle ride with more than X people in attendance to obtain $1,000,000 in liability coverage. That X is included because the model legislation doesn't yet specify how many people.
When I first saw this, I thought it was Dallas, Texas, because of the infamous attempt to legally bar cyclists from their farm-to-market roads (essentially all county roads) for dubious 'safety' reasons. The Texas bill was defeated.
Like cockroaches in a ratty apartment, bad ideas like this can spread quickly. It's transparently obvious that the intent is to shut down any group rides and it's a slap at RAGBRAI. The worrisome thing about this piece-of-crap 'model' ordinance is that counties may alter it into an even worse form.
Found via Today's Sermonette. My thanks to the mostly reverend for his help.
Wednesday Night Ride Update: Tulsa
Last Wednesday, a motorist assaulted a cyclist along the popular evening route. Various accounts agreed that he attempted to pass a large group, but before completing the pass he met an oncoming car. The motorist then forced his way into the pack of riders. Words and gestures were exchanged. The motorist accelerated away at the first opportunity. He encountered a lone cyclist, exited his car, and knocked the cyclist down. The group arrived and he fled. Allegedly, his tag number was not valid. It's just as possible that the eye witnesses garbled the number.
Associated Press and Fair Use
This may seem off-topic. Many bloggers rely on the concept of fair use in writing our thoughts and opinions. The basic premise is that it's legal to use small parts of a copyrighted work but not all of it. This is not a cut-and-dried issue because the courts interpret fair use on a case by case basis. The safest approach is to use the minimum necessary in order to make a point, and that's the approach I've taken here on CycleDog.
The Associated Press acknowledges this common understanding about fair use. However, they've gone one step further. AP now requires that anyone using excerpts of their material must pay a licensing fee according to the following schedule:


"License parts of this article for republishing on your website or intranet. Pricing based on the number of words excerpted.
Excerpts are priced by the word."
| | |
| --- | --- |
| Words | Fees |
| 5-25 | $ 12.50 |
| 26-50 | $ 17.50 |
| 51-100 | $ 25.00 |
| 101-250 | $ 50.00 |
| 251 and up | $ 100.00 |
I'm certain AP would take an entirely different line if, say, a celebrity or politician insisted the news organization pay a licensing fee to use their words or images. It strikes at the heart of a free press. Likewise, AP's licensing fee strikes at the heart of blogging. Some few of us actually make money from our blogs. CycleDog, sadly, is not one of them. If I had to pay to use their material, a couple of excerpts would break the bank.
Does that mean I'll avoid using Associated Press excerpts? Probably not. In fact, I may emulate them. Let's see....if I adopted a simple licensing fee of only $100,000 per word, a couple of quotations could provide a very nice retirement fund.
Okie blogger lurks
Taking cash from the unwary
Retires with new bike.
OK, that's twelve words or $1.2 million. All I have to do is get some gullible fool poetry connoisseur to copy it, and I'll be livin' large!
Found via Okiedoke.

Labels: associated press, bicycle laws, Iowa bicycle, RAGBRAI, tasha does tulsa