On the campaign trail with Wally Crankset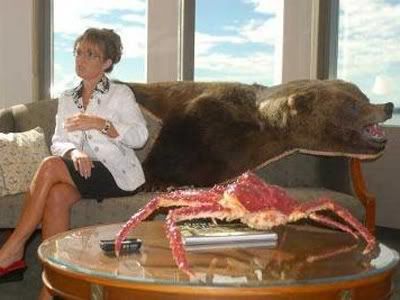 BROKEN ELBOW METEOR NEWS

COWBOY FLATS OKLAHOMA

28AUG2008



CRANKSET VOWS TO CONTINUE CAMPAIGN



Dr. Walter Crankset vowed to continue his campaign to be the Democratic vice presidential nominee at a campaign stop in Cowboy Flats earlier today. A heckler in the crowd, identified later as local rabble rouser Fritz Delicious yelled that Senator Joseph Biden is the real Democratic nominee and that Dr. Crankset should "give it up and get a life!"



Dr. Crankset has been beset by numerous hecklers throughout his campaign, and often takes time from his stump speech to confront their objections in a straightforward and forceful manner. He was in no mood for distraction this morning. "Joe Biden!" he yelled. "Joe Biden is a good man, but he's no match for Mary Palin. That woman is

tough

! She's from Alaska and she wrestles Kodiak bears and catches King Crab with her bare hands. Joe Biden can't do that. He's from Maryland where their idea of a crab is something that fits on a dinner plate. King Crab are 4 feet across and Palin catches them in her

teeth

! You need somebody just as tough to stand up to her. and that's me. I may not look like a mean, hard-as-nails hombre these days, but back with I was a masked wrestler in Mexico..."

His security detail intervened at this point and Dr. Crankset didn't finish his remarks.


Labels: satire